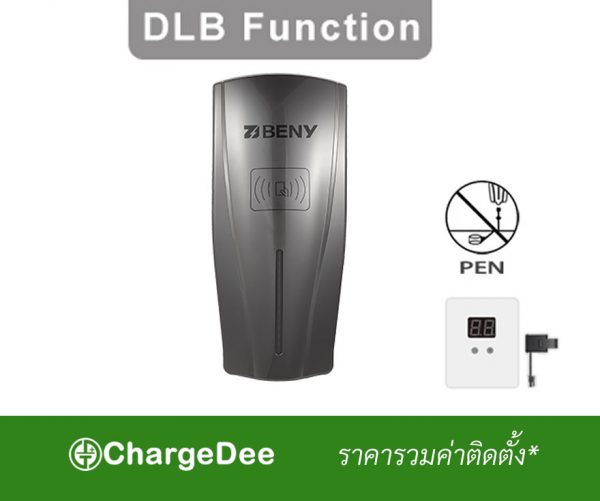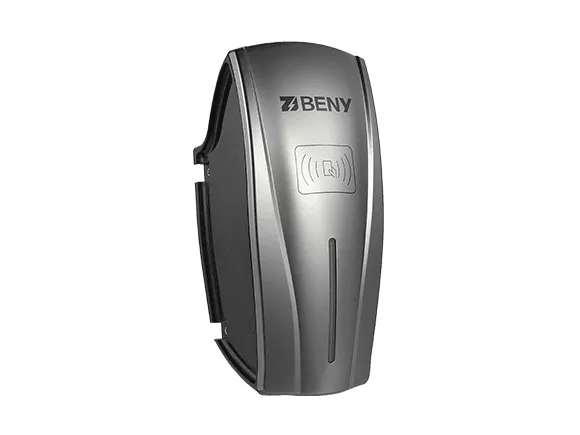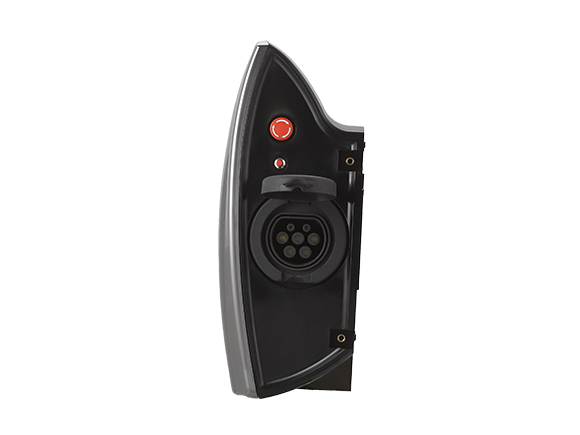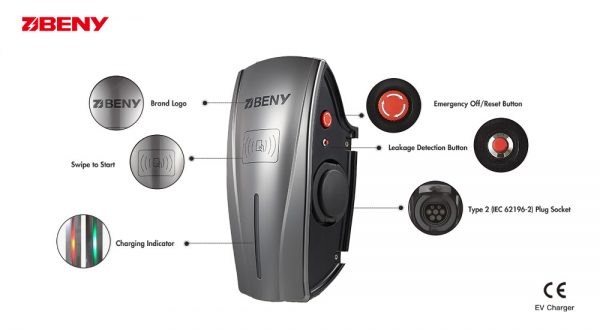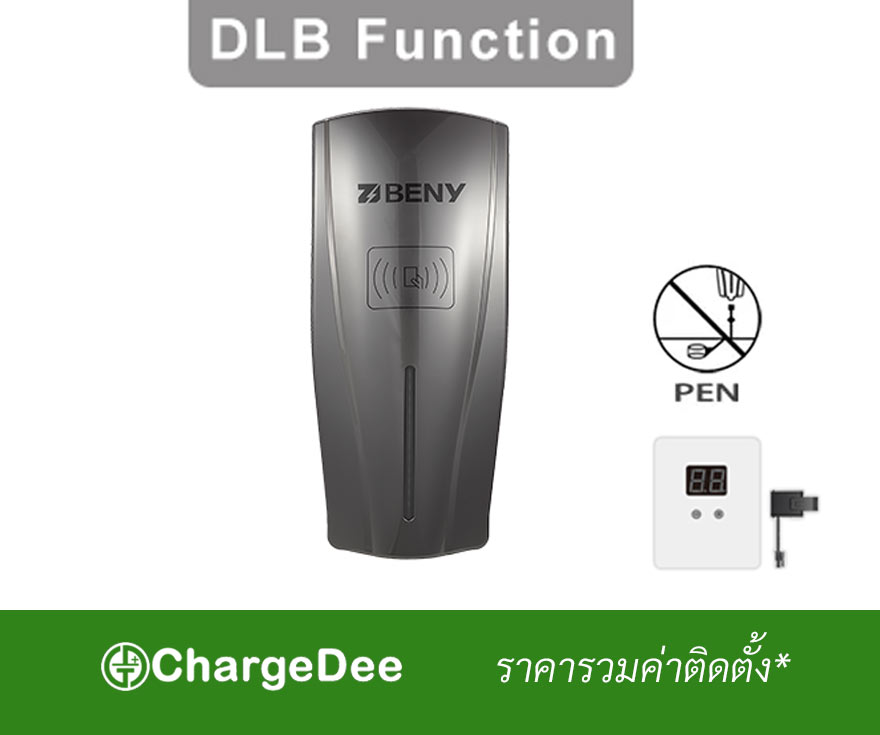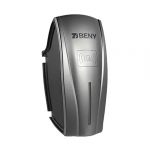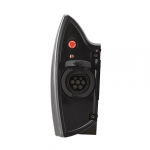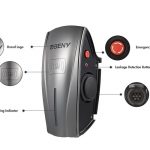 BENY DLB PEN 7.4kW, Socket Type2
฿39,900.00
คุณสมบัติของผลิตภัณฑ์
มีระบบ PEN Fault Detection เพื่อตัดระบบเมื่อเกิดสถานะ PEN fault ให้ผู้ใช้มีความปลอดภัยสูงสุด ตามมาตราฐานอังกฤษ
มีกล่อง Dynamic Load Balancing (DLB) พร้อมอุปกรณ์ ติดตั้งเพื่อปรับเปลี่ยนกระแสไฟฟ้าของการอัดประจุรถยนต์ไฟฟ้าที่สอดคล้องกับกระแสไฟฟ้าที่ระบบจะสามารถจ่ายได้ตลอดเวลา และไม่ทำให้เกิดการโอเวอร์โหลด
Build-in with overvoltage and under-voltage protection, over-current protection, over temperature protection, imperfect earth detection, CP abnormal signal protection and type A + DC 6mA
Operating temperature range: -25 ℃ ~ +55 ℃
With temperature sensor build-in important areas for fire protection
With leakage test function, ensure the normal operation of leakage protection
The charger has a function of automatic reset after troubleshooting. That means when a charger stop working when an anomaly is detected, the charger will periodically selfcheck whether the anomaly is eliminated. The charger will start to work automatically after ensure the anomaly has been eliminated
With Dynamic Load Balancing (see below)
With PEN Fault Detection (see below)
Without OCPP
รายละเอียดเพิ่มเติม
ข้อมูลเพิ่มเติม
ข้อมูลจำเพาะ
ดาวน์โหลด
รายละเอียดเพิ่มเติม
BENY EV Charger With Dynamic Load Balancing With PEN Fault Detection – 32A, 7.4kW, Type2 Socket
รับประกันผลิตภัณฑ์ 3 ปี
Easy for cable storage
The ramp-down stop current charging mode protects the EV batteries
The EV charger can be wall-mounted or pile mounted. There are three wiring ways for the EV charger, bottom entry wiring, Top entry wiring and rear entry wiring. You will need to install the wiring box to make top entry wiring
RFID card or auto-start charging for option.
Rated charging current can be set according to different home load conditions
With lightning protection ensure personal safety
Standard: EN IEC 61851-1 IEC 61851-21-2
Certificate: CE/UKCA
ข้อมูลเพิ่มเติม
| | |
| --- | --- |
| Make | BENY |
| kW | 7.2kW |
| Charging Gun | |
| Charging Socket | |
Electrical
Charging capacity 7.4kW
Charge mode Mode 3 (IEC 61851-1)
Output power 1-phase,230V , 32 A, 50-60 Hz
Connector options Type 2 Socket
Cable entry Rear or bottom
Protection and certification
Build-in RCD TYPE A + DC6mA leakage sensor built-in
Socket IP55
Housing fire ratings V0
Operating temperature-25 – +55c
Compliance IEC61851-1, IEC61851-21-2, IEC61000-4, CE EMC EU/2014, CE Low Voltage EU/2014/35
Certificate CE / UKCA
Connectivity
Authorization Auto-start standard / RFID card option
Status indication LED ring
Mechanical
Housing Polycarbonate
Dimension W169 x H380 x D151 / 201 mm
Mounting Wall or Pole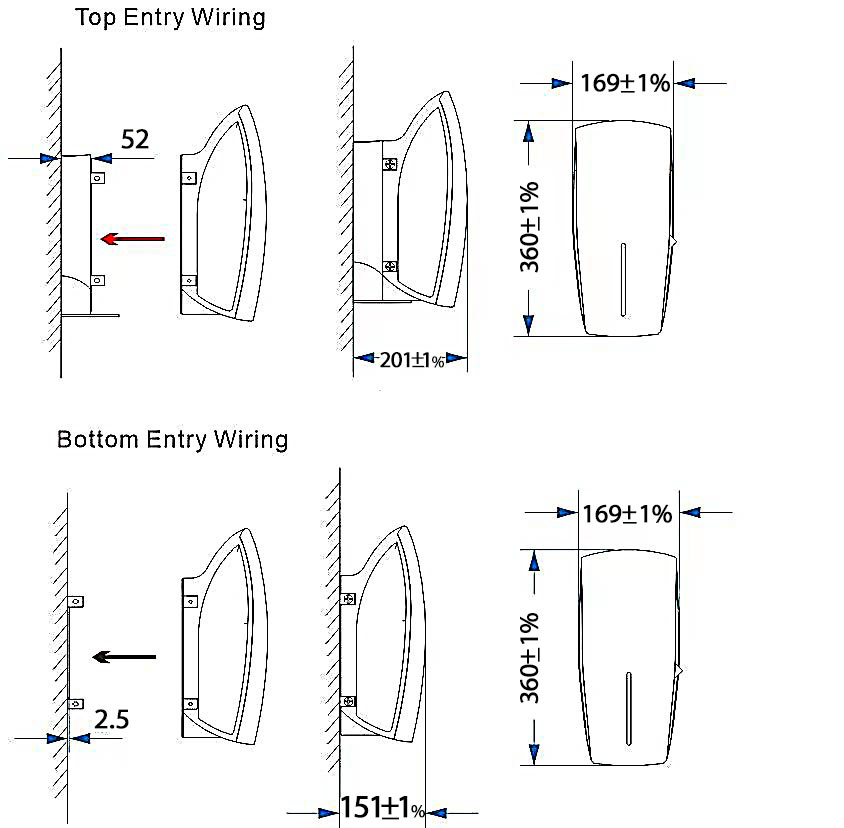 Dynamic Load Balancing

DLB (Dynamic Load Balancing) is available in the BCP series AC EV Charger for home use, when the EV charger is working with other household appliances at the same time, the DLB box can maintain the dynamic balance of the total household current and ensure the safety of electricity to avoid home over load.
Set the Max current value of the main line on the DLB box. The charger will read this current value and automatically adjust the charging current (6A-32A) according to the idle load quota, so that the total household current will not be overloaded due to charging. This function can effectively use the power supply without providing additional power for the charging or home line update.

PEN Fault Detection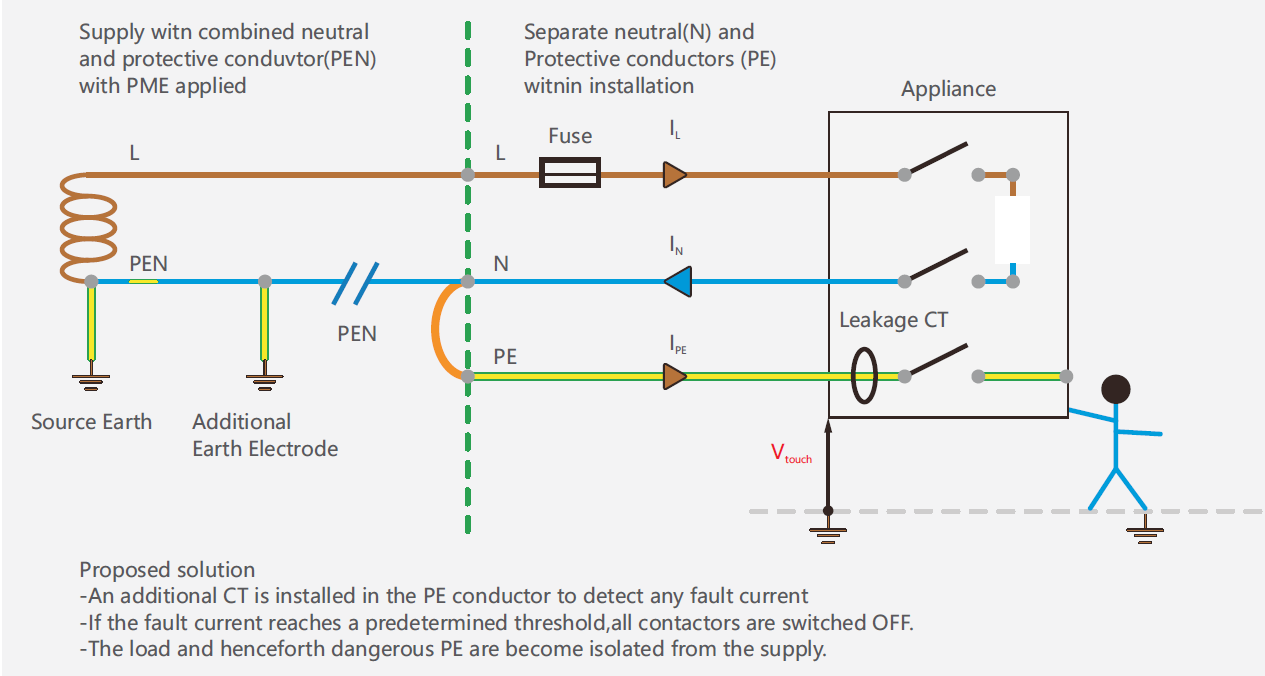 For TN-C-S systems without grounding at the user's end (as shown above), when the PEN line to the household is cut off due to a line fault and the rear end of the PEN line is in suspension without repeated grounding, and the distribution box RCD is not working properly at this time, the voltage of the protective ground PE is equal to the voltage of the fire line L. If not equipped with this protection ,the shell of the EV in charging will be charged with a voltage equal to the fire line L voltage. If there are no other appliances except the EV charger, the leakage current will exceed 30mA and the person will not be able to disengage himself, which is a safety hazard; if there are even other appliances, the leakage current can easily exceed100mA, which is very fatal.
If the user uses a EV charger equipped with PEN protection as shown above (model with -E suffix), its internal design has a contactor to cut off the ground, once the PEN line is cut off, the contactor KM1 and KM2 immediately and automatically disconnected, there is only a weak leakage current between CP and PE to L line, its current value is less than 1mA, which is the smallest perceived leakage current of the human body, people can disengage themselves, no safety risks.